On behalf of our entire crew, we want to thank you for the best fishing vacation we have ever experienced. We came to Costa Rica anticipating 4-6 sailfish daily. And we are still astounded that we hooked and released 44 sailfish in three days of fishing. Your amazing Macushla crew of Captain Johnny and mates, Mario and Victor, were the best any of us have experienced. The combination of skill, professionalism, resourcefulness, and friendliness was amazing for all of us. Observing them as synchronized crew was a joy in itself.
Suffice it to say—we will all smile the rest of our days from our outstanding days of fishing the Macushla—a true Sweetheart indeed. Watching Johnny, Mario, and Victor operate was great, and the final hook up of four sailfish within seconds--the exhilarating few minutes—and maneuvering the boat to release all four was awesome!! Thank you creating so many memories.
We hope to fish again with you in the future and
May you always have fair winds and following seas,
Steve Ray
I'm going to have some friends in the condo for a week starting next Monday. I have left them your email and Johnny's phone number to contact you. We had a great time last week and these guys can't get over how perfect things were. Johnny's plan work great and we caught fish most of the day. As for their thoughts of fishing anywhere else in Costa Rica, they feel that nothing can come close to what they did and even out of season. Mario and Hanson did their normal fantastic job and were funny and spirited as they took turns jigging for Tuna.
You guys keep up the great work and no one will want to fish with anyone else.
Keney Meyer
MUCHAS GRACIAS!!!!!!!!!!!!!
We have a great time in Costa Rica and once again the Macushla Team proved to be "excelente". We knew that during an El Niño year fishing is rather slow due to water temperature, also the fishing reports provided gloomy forecast. We raised 13 sails and released 7, caught one Dorado and also raised two marlins, take that El Niño.
The boat continues to be maintained "Spick and Span" and in excellent conditions, and obviously the crew makes a huge difference. We are all already planning for next year, once again GRACIAS
PURA VIDA!!!!!!!!!!!!!!!!!
Manuel
One often hears and reads about the "best" or "greatest" fishing getaway but rarely does the experience actually live up to the billing. Let me say that our recent glorious trip to Los Suenos truly exceeded our wildest expectations. The owners of Macushla are first class people with the highest integrity. They made sure every detail of our trip was handled. All we had to do was show up...and then work hard to reel in the Sailfish and numerous Marlin's we were fortunate enough to catch. The Macushla crew is one of the hardest working group of young men we have ever met. From the time we left dock in the morning until the minute we returned, they worked tirelessly to ensure our satisfaction. To top it off, we thoroughly enjoyed the beautiful condominium we rented during our stay. A brand new, world class facility in the middle of paradise. This is a can't miss opportunity and we are sure to return often!
Gary Price & Mary Ellen Curzon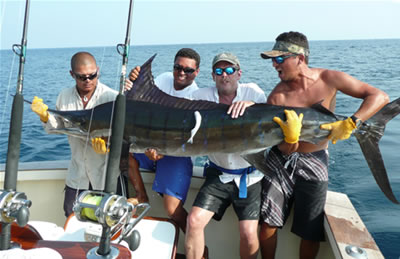 We had a great time aboard the Macushla this week and I want to thank you again. Captain Johnny and the crew are top notch and the boat is just beautiful. The crew is very friendly and they like to have fun, but when it comes to fishing, they are all business and extremely professional. They were very excited with each fish landed and visibly upset with the couple of misses we had. Their passion and enjoyment regarding fishing is evident, resulting in the optimum fishing experience. As an added bonus, the crew treated us to freshly cut fruit including a pineapple and watermelon plate that would have made a chef proud. We were able to catch 7 sailfish during the trip, but we saved the best for last. Just as Captain Johnny had shook my hand and let me know it was time to head back, a big fish hit. The crew erupted at the site of a large striped Marlin jumping through the air. It took an additional 40 minutes to boat the fish which ended up being over 10 feet and 200 pounds. All in all, this was a truly memorable experience for me, my son, and my brother, and I could not have asked for more. Please convey my sincere appreciation to the Captain and crew for a fantastic fishing experience. Without question, they are my first choice the next time I am in Costa Rica. I am attaching a couple of pictures for your enjoyment.
Thank you again for a great experience and I hope to be back down soon.
Pura Vida!
Brett
We fished on Macushla on Thursday April 17th. I just wanted to let you know what a great time we had. I got to meet John at the dock before we left, I really appreciated him coming down and greeting us. I own 3 boats in Florida and do a lot of fishing, my largest is a 35 Tiara, so you can imagine I'm hard to please. Your boat was so impressive! Great design, great power very comfortable. I'm always concerned with the Fishing gear on a charter, most of the time I bring my own. I was surprised to see almost all Shimanos, what looked like new line and everything in great shape. Captain John was very professional along with his 2 mates. They went out of their way to make sure we had a great experience. We caught 4 very large sailfish, but most of all we had a terrific time. We will definitely book with you again. (Next time we will give you more notice.) Oh, we also enjoyed the lunch.
Thank You,
Jon Lutter
Thank you for all your help in planning our trip and for your patience with all of our questions. This was our first trip to a Latin American country, and we were not sure what to expect. Thank you for making it stress free for us. The fishing trip was the highlight. We still cannot believe we were catching fish that weighed more than some of us!!! We enjoyed meeting you and hope to see you again.
Art McEwen, Wayne, NJ
I just wanted to thank you again for the trip of a lifetime. Everything about it was first class from the accommodations to your outstanding crew. All of us in my group were very impressed with how hardworking and gracious the Macushla crew were. The boat was outstanding and its obvious you are very proud of it. The fishing of course was ridiculous! Almost a month later and we still can't believe all the fish we caught. Five marlin in one day and all those sails. We are looking forward to coming down again next year!
Dean Guske, Bellevue, WA
I really enjoyed last year and am looking forward to the crew again. Thanks.
Barry Nester, Stratford, CT
My wife and I have done a lot of fishing, but this was the best. I hope you know what kind of people you have working for you. We will be back. Thank you! Chuck Austin, Jacksonville, FL: I had no idea that there was a place where you could take your family and let them experience the greatest fishing they may ever see, along with calm waters. And thank you for your meticulously maintained boat and equipment. We have fished all over the world and must say your crews and Captains are among the best. We will be back. Thanks for a great vacation!
Scott Wehrung, San Antonio, TX
We are all back at work and going through our boring daily routines. All of us are just waiting on the next chance to go back to Costa Rcia. To say everyone had a wonderful time would be an understatement. Thanks for everything you did in making the trip one that we will remember for a long time. The condos were great. Thank the crews on the boats again for us. They could not have been better. Thanks again for a wonderful trip.
Larry Pate, Duluth, GA
Hey Jack, just wanted to follow up on your boats. We had a good time. Some real nice fish were boated and your crews worked real hard. We will be back down again, would love to book your boats again if you will have us, and will refer you to other friends we have coming there. Your boats were just like you stated them to be. Costa Rica is such a nice place for a group of guys to go on vacation too. Thanks again.
Bob Benbow, Jonesboro GA
It was hard to believe that you could provide a better trip than last years, but you sure did! It was the best trip I've ever experienced. Marlin, sails, dorado and when we needed a break, some world class rooster fishing too. You and your crews are the best. We cannot wait until next time. Thank you.
Mike Briggs, Gainesville, GA